By it admin
Written by LeAnn Nguyen
"All you need is love. But a little chocolate now and then doesn't hurt." – Charles M. Schulz. Valentine's Day, a made-up holiday by a card company that can—and do—bring up mixed emotions, is quickly approaching and it is time to plan who you want to share your chocolates with!
Whether you plan to have a date night with your bae or go out with your girls—Hello, Galentine's Day—here are five different ways to add red to your Valentine's Day outfit in a more unique fashion:
Go Red: First off, if you have that red dress in the back of your closet you've been dying to wear, just go for it! Go bold, if that is you. Since February is also American Heart Month, wearing red has a more meaningful message too.
From our Shop: Topshop Crimson Velvet Slip Dress
2. Details Matter: Highlight your simple outfit with a bold red accessory. Whether it's a red pair of strappy heels, a new red purse, or a pair of heart-shaped earrings, your Valentine's Day accents will make you sparkle.
From our Shop: Kate Spade Crossbody Bag
3. Throw Shade: Switch it up from a classic bright red with a different shade like maroon or dusty rose. A different shade will upgrade your look to a whole new level!
From our Shop: Liz Claiborne Pink Sequins Tank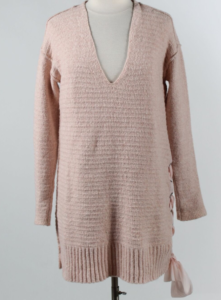 4. Buckle Up: A staple for transforming the fit of a thrifted purchase is adding a belt! Find a red or neutral-toned belt that will compliment your natural figure for a flattering date night look.
From our Shop: Coach Leather Belt
5. Cherry Pick Your Fun: Why go for plain red when you can incorporate a fun print? Capture everyone's attention with red snakeskin, floral, or polka dots.
From our Shop: Red Floral Print Tank
Planning a fun, new outfit for Valentine's Day does not mean you have to break the bank. Stop by your local SF Goodwill retail store or shop online and see how you can incorporate these tips to create a unique and fashionable outfit! By doing some thrift shopping, you will be recycling and contributing to SF Goodwill's mission to help people who need second chances through training and the dignity of work.
Don't forget to tag your finds, outfits, your friends outfits (Galentines or not) at @sfgoodwill, so we can share your finds too! #BuyBeforeItsBye
Will you do Good and share this post?