At Goodwill SF Bay, we strive to let nothing go to waste. Most of the household goods generously donated by our community are processed in our warehouses, tagged for sale, and sent to our thrift stores. There, they find eager customers and get a second (or third!) use — easing pressure on our local landfills.
Sometimes we receive items that we are unable to sell due to disrepair. And sometimes items in our stores don't sell within a specified period of time and need to be cleared out to make room for incoming merchandise. Since all of these items still have value, we make them available at our South San Francisco warehouse at 100 Utah Avenue at Corey Way. Open 11 am – 3 pm daily.
Shop by the bin, box, or bale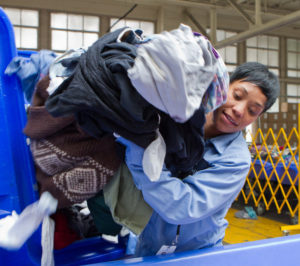 Bins
Bulk purchasers are welcome to shop our bins for items not destined to go out to our stores. A boon for re-sellers, up-cyclers, and vintage treasure hunters, this merchandise is sold by the piece and priced by the pound starting at $1.79. The more you buy, the lower the price.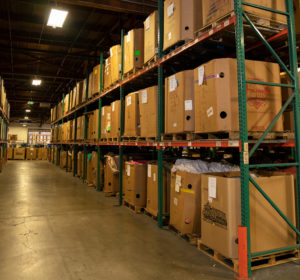 Boxes
We offer out-dated items from our stores and goods not sellable at retail in pallet-sized, industrial cardboard boxes. For the convenience of flea-market entrepreneurs, repair specialists, and international resellers, we pre-sort these items into categories such as shoes, handbags, electronics, and apparel. We provide space for customers to sort items on site and take back any unwanted items. Boxes are priced on site, usually ranging between $50 and $100 per box.
Bales
We bale salvage-quality textiles and items rejected in box sales and sell them in large lots. The textiles are often used for industrial applications such as rag making, insulation or filler, with prices fluctuating according to the market. For more information on purchasing salvage textiles by the bale, please contact Michael Ware, Director of Donations and Aftermarket at aftermarket@sfgoodwill.org.
As with our retail store sales, the proceeds from our aftermarket, wholesale, and salvage businesses empower local people to transform their lives through the dignity of work.